About our Tuning Forks
All of our tuning forks are made in the USA. Some are manufactured for Omnivos Therapeutics and others are from Biosonics. You will see either Omnivos or Biosonics on the product and category pages. The Practitioner sets contain both Omnivos and Biosonics forks.
Different Types of Tuning Forks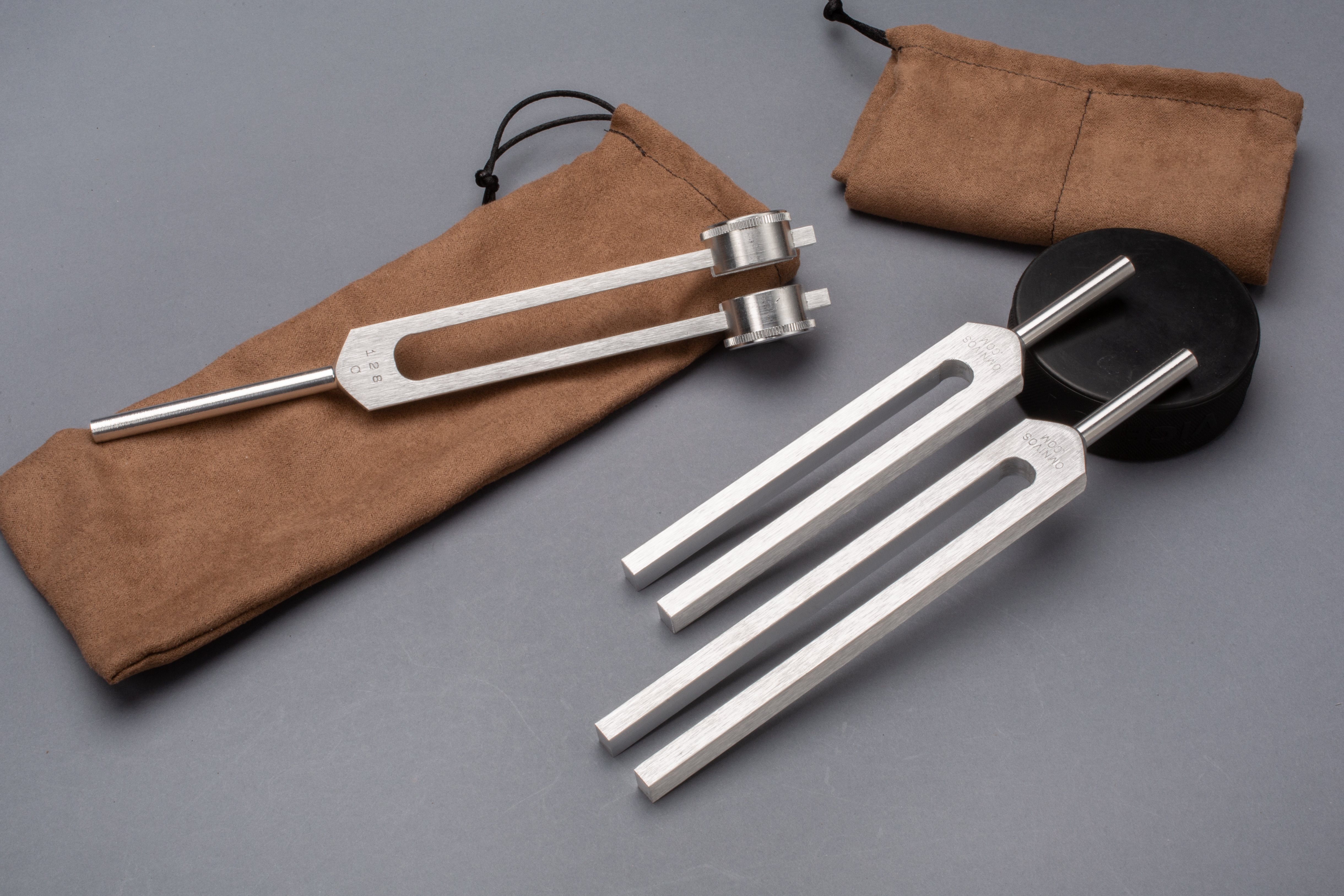 There are two types of popular tuning forks; weighted and unweighted. The weighted tuning forks are typically used on the body as well as by the ears to relieve pain from inflammation such as arthritis and other joint, muscle and nerve pain. These are the ones with the weights on the end of each prong.

The unweighted forks are used by the ears and around the body for balancing the nervous and energy systems and can assist with emotional, spiritual, physical and mental health and awareness.
What are the Benefits of Tuning Forks?
Relieves Pain
Reduce Stress
Balances Nervous System
Reduces Inflammation
Mental/Emotional Clarity
Induce Relaxation
Who is Using Tuning Forks?
Interest in the use tuning forks for health has been increasing. Tuning forks are proving to be a very effective tool for enhancing, balancing and maintaining good health.
Massage therapists
Chiropractors
Acupuncturists
Meditation
Yoga Practitioners
Recent research by Dr. John Beaulieu has shown how tuning forks can benefit anyone. Download his report here.
Why Quality is Important

Substandard tuning forks will have impurities in them, something more than the purist aluminum. The result can be reduced harmonics, a shorter ring tone and the energy of those impurities being released.
Tuning forks are based on frequency. If the quality of the aluminum is poor or the manufacturing process is lax, then the frequency will not be accurate and the fork will not be harmonic (ie. have a clear, long lasting tone).

Our aluminum tuning forks are made from impact resistant aluminum alloy making them approximately 26% harder and giving them a ring time up to 20% longer than other manufacturers.
All of our forks are tuned to within .5% of the indicated frequency at 20 degrees Celsius, 68 degrees Fahrenheit. Other manufacturers tune to as high as 2.5%.
All our tuning forks are subject to at least three inspection processes to eliminate imperfections.
All of our tuning forks are manufactured in the USA especially for sound therapy and health care professionals.
We have lower levels of impurities with the highest rating for surface finish per the Reynolds Aluminum Engineering Study. As a result, our material is more immune to corrosion and pitting.
If you have not seen them yet, be sure to look at our Introduction to Tuning Forks and How to Use Tuning Forks videos here.